Primera Bravo Buyer's Guide
When it comes to high-resolution inkjet printing on CD and DVD media, Primera products are at least two cuts above the competition. Primera features a full line of disc printers and publishers to satisfy any size job without breaking the bank. Primera offers a Bravo machine to fit every size budget.
The current lineup of products includes the Bravo SE, the Bravo II, the Bravo Pro Xi, and the Bravo XR. Each machine includes "SureThing" labeling software, and the publishers include "PT Publisher" software for burning as well. Let's start by examining the features and benefits of each machine individually.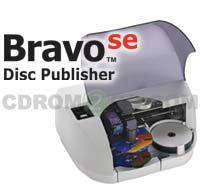 Don't let the miniature size of the Bravo SE detract from its impressive features. This cute little unit is available as an Autoprinter or as a DVD/CD Duplicator and Printer combo (also known as a Publisher). The publisher version includes a built-in DVD/CD burner for recording discs in addition to printing.
Blu-ray drives have recently been introduced for the Bravo SE as an option for high-definition disc publishing. A simple robotic arm takes care of the loading and unloading of discs for you, whether you are printing, burning, or both (publishing). With a 20-disc capacity and maximum print resolution of 4800dpi, the Bravo SE is an impressive contender in the entry-level market.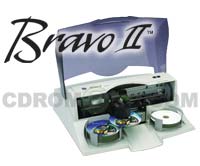 If you look at the best features of the Bravo SE and then add even more functionality, you've got the Bravo II. The Bravo II has a native capacity of 25 discs that can be doubled to 50 discs with the optional kiosk mode kit. Primera is sending out the kiosk mode kit for Bravo II free with product registration.
The Bravo II offers more than twice the disc capacity of the Bravo SE, with the same amazing 4800dpi print resolution. Bravo II also expands the printing abilities to include business card and hockey rink shaped discs as well. Bravo II's dual cartridge system includes both a black cartridge and a color cartridge for true blacks and amazing color. This unit is also available in a Publisher version that has a single high-speed DVD/CD burner drive for making complete copies. Organizations with multiple users appreciate the network capabilities of the Bravo II that enable print sharing between multiple workstations.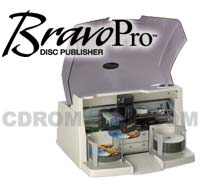 The next level in disc printing and publishing is the Bravo Pro Xi. This high performance machine features a 100 disc capacity. With increased disc capacity and larger ink cartridges, the Bravo Pro Xi can easily handle large printing and/or duplication jobs. The Bravo Pro Xi sets itself apart from the other Bravos by offering two high-speed DVD/CD recorder drives instead of just one. Blu-ray versions are also available with one or two recording drives.
The Bravo Pro Xi also sports improved robotics that are up to 300% faster than the previous Bravo Pro machine. This means that jobs can be completed in much less time compared to other inkjet disc printers. As a finishing touch, the Bravo Pro Xi features cool blue accent lighting while the machine is operating.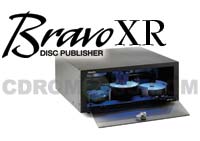 Primera's passion for innovation shines through in their XR line of high-end disc publishers, the Bravo XR, XRP, and XRn. These heavy duty machines are constructed in metal cases with lockable front panels which are ideal for high security situations.
The Bravo XR comes with a single high-speed DVD/CD burner, or Blu-ray burner for next-gen multimedia authoring. These units feature the same great 4800dpi print quality in a "stackable" tabletop or rack-mountable package. The Bravo XRn is unique because it has full network capabilities out of the box, thanks to its embedded computer and Windows XP software. Combined with a 50-disc capacity, this is sure to be a great solution to your multi-user publishing needs.
Whether you need to print, burn, or both; whether it is on CD-R, DVD-R, or BD-R; and whether you need 20 discs or 100, you will find an affordable, feature packed, and professional solution from Primera.
You can find more information about each of the machines listed above including photos, detailed specifications, and pricing by visiting The Primera Store by CDROM2GO.