Authoring optical media is a lot like creating a roadmap for users to navigate the content of your disc. It's a process of gathering audio, video and other data into a cohesive format that can be recorded (burned) to a CD, DVD or Blu-ray. While authoring tends to be synonymous with burning, it's different in the fact that it's a system of compiling data that makes burning to a copied disc possible. Authoring software enhances content elements of the disc by adding creativity and menu options like scene selections and other graphical features. DVD authoring software typically supports burning to CDs and Blu-rays as well.
Authoring a DVD provides the user non-linear viewing flexibility, where you can skip to a desired scene or chapter. An authored disc allows you to bypass several wasted minutes of rewinding or fast-forwarding through edited scenes and chapter creations. Software designed for this process is often found in a multi-purpose suite that can include ripping, burning and labeling capabilities.
What to Look For
First examine the program's menu design capabilities. Can you create custom backgrounds or menu buttons? Can you add animation or menu music? Does the software allow you to choose from a variety of design templates for elements like text or thumbnail icons? Does it have video editing and capturing capabilities? What are its disc burning and reading functionalities?
The efficiency of the authoring software's installation process is extremely important. How long does the average installation take? Moreover, since the software uses quite a bit of heft look into its reliability, as such heavy duty software can be prone to getting overloaded with tasks and become unresponsive. DVD authoring software may also require good customer support to be able to complete and follow all that it has to offer.
You also want to consider the authoring software's interface layout; does it match or challenge your level of experience? Research the quality of the final copied product. You want to make sure to examine the picture level of the edited video as well as ensuring that the menu design elements suit your preferences and function properly.
For informational purposes, CD-Info will explore a few major brands of DVD authoring software to see how they rank when it comes to providing you with the best disc content.
Corel DVD MovieFactory Pro Review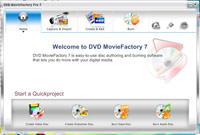 Corel's latest version of DVD MovieFactory Pro simultaneously offers simplicity and a solid range of features with an intuitive, step-by-step authoring process. If you're seeking a full blown video editing suite with cutting edge special effects options along with your DVD authoring, DVD MovieFactory Pro is not for you.
While it has basic edit tools, its strength lies in its menu and chapter creation as well as other authoring features. This software accommodates HD footage in all capacities and supports Blu-ray copying. It can cut down on its resolution for the purpose of editing and designing to enable quicker, more streamlined program response. You can also export videos to your hard drive with an MPEG file. Its interface is easy enough for any authoring beginner to navigate; just follow each step, icon or command while being guided to each step with a "next" button.
Corel's authoring software offers dozens of menu and chapter templates that can be customized with music and pictures. For those creating slideshows instead of videos with non-linear menus, a drag-and-drop function pulls everything together. You can also control elements like the slideshow's picture quality, zooms and transitions. DVD playback displays a crisp picture and smooth navigation. However, the program's foundation can be less than sturdy at times, due in part to its sheer size (400+ megabytes). The stability wavers with occasional response issues and faulty import settings. DVD MovieFactory Pro also comes at a price of approximately $80, however free trial versions are available online.
Sony DVD Architect Studio Review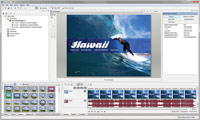 Sony's DVD Architect Studio is an authoring program compatible with the highly regarded Sony Vegas video editor. It shares two distinct similarities with Vegas: excellent control and advanced navigation. The program is superior in its menu construction capabilities and the end result is a truly polished product. You have complete control over every minute element that goes into the look and feel of your DVD menu. Create custom buttons by placing text or graphics anywhere you choose. Titles can have unique effects like shadows or blurs. A drag-and-drop function allows you to place your photos or video clips. The software comes with built-in support for burning. Both its preview and playback render a crisp picture and a clean play.
Despite all of its superior qualities, DVD Architect Studio does have its drawbacks. The software is not intended for video editing; it shines solely in its disc authoring (Sony's Vegas picks up where Architect Studio leaves off). The interface and tutorials lack any sort of intuitive, user-friendly context, most particularly for beginners-this program is for advanced editors or those willing to take the time and patience to adjust to its learning curve. Additionally, it will not directly import video from certain sources (like your camcorder). In order to use video that lacks import support from DVD Architect, it needs to be on your hard drive first. Free online trial versions of DVD Architect Studio are available as well as a hard copies for under $45.
Womble EasyDVD Review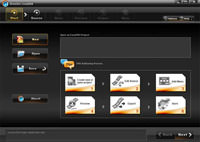 Womble EasyDVD lives up to its name for disc authoring. It simplifies the process into six steps without skimping on design and quality. The authoring procedure includes: creating a new project, adding video files, adding menus, previewing your project, exporting it to a program folder and burning it to your DVD. Minor editing as well as chapter creation can be accomplished during the video file addition process. These steps, along with a stable, near-crash-proof application, cut authoring to a fraction of the time it takes with other software. Playback quality does not falter because the program's video encoding process maintains the integrity of the picture.
The only hitch with Womble's EasyDVD is that its simplicity might not correspond with an advanced user's demands. A more skilled editor may want more creative control over menu design and template options compared to what this application can offer. EasyDVD will set you back about $50. A fully functional free trial is also available from Womble for 30 days.