Q: How can I avoid delays with my duplication or replication order?
The biggest delays with duplication or replication service orders are typically artwork issues, here are our top 4.

Low-resolution files
This is the most common reason a job gets delayed. We require all images and files to be a high resolution of 300 dpi (dots per inch) at the actual printable size. Anything lower decreases image quality and will not be usable. If you are unsure of your resolution, or how to check it, refer to the help menu of your program, or contact our Art Department. Images that are low-resolution originally will not increase quality if adjusted to high-resolution; they must be scanned or native 300dpi files.

Bleeds and templates
All images MUST have 1/8" bleeds past all edges to allow for shifts and adjustments. We also require artwork to be submitted with our templates. This helps ensure the artwork is setup at proper sizes and printable areas. View our templates for visual details.

Missing fonts
All fonts either need to be converted to outlines (curves or rasterized, depending on the program) or submitted along with the artwork.

Missing linked images
Any linked images need to be supplied to verify resolution, bleeds, and layout. Each design program has a different way of checking for this. In QuarkXPress, use the Collect For Output feature. With InDesign, use the Package command. FreeHand and Illustrator have Links menus, which will list all placed images in the document.
Q: What is an entrapment?
An entrapment is the outer insert that wraps around DVD cases under the transparent sleeve.
Q: What is an insert?
An insert is a printed material that can be inserted into packaging such as a CD jewel case or a DVD case. Only even number of panels can be used for inserts. A 2 panel insert is front and back of one square, and would increment from there to be folded or made into booklets.
Q: What is the difference between a insert panel and an insert booklet?
A panel insert is one continuous sheet of paper printed front and back folded to create multiple panels or pages. 4,6, 8 panel inserts are folded. A booklet insert is multiple sheets of paper printed on front and back then stapled together to create a booklet. Booklets start with a minimum of 8 pages that are made up of 2- 4 panel inserts.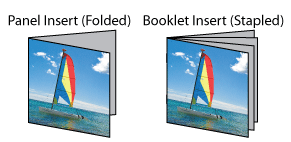 Q: What does 4/0, 4/1, and 4/4 mean in printing?
Printed materials and inserts can be printed different ways to accommodate artwork or budgets. 4/0 means printing 4-color process on 1 side and blank on the other side. 4/1 means printing 4-color process on 1 side and black/white on the other side. 4/4 means printing 4-color process on both sides.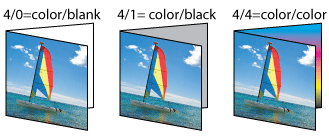 Q: What is 4 color printing?
This is the standard process for digital printing which uses four colors (Cyan, Magenta, Yellow, and Black) to make up every color variation.
Q: What is a digital proof?
A digital proof is generated based on the art files that were submitted that are used to verify layout of artwork before producing a job. Digital proofing files typically a PDF or JPG that are low resolution outputs and not for color or quality and are typically sent via email.
Q: Can I see an actual printing sample of my artwork before the entire order is finished?
A physical proof can be requested which is a hard copy of high-quality. The physical proof can be of disc or printed materials artwork and even contain the master data. Proofs are available by request at additional cost.
Q: How do I know which template to pick; what is the difference?
We do have a lot of artwork templates for different printing processes and master content. Knowing which process to use is the best way to narrow down which template you will need. Duplication jobs use low-to-medium volume printing using PhotoPro digital printing on the disc. Replication jobs are silkscreen or offset printed on the disc surface in large volumes; this is usually reserved for 1,000 pieces or more. Details and specifications are noted in the templates for the corresponding processes.
Q: What size disc center hole template should I use?
In most cases, you can choose the center hole for the disc size based upon the space needed for your artwork. Really, as long as you create your artwork to our basic specifications with one of our disc templates, the center hole size can vary depending on the print process you will be doing. If you know you are getting your disc duplicated and will have photographs in your art, our PhotoPro print process is amazing, and gives you a nice, big surface with a 19 mm center hole and a 119mm outer edge. With PhotoPro printing, you can get small-large quantities at a great price. If your print process is going to need a different template, minor adjustments are easy if you submit us a layered file.
Q: Why don't we offer Photoshop templates for Replication discs?
While Photoshop is hands down the most powerful image-editing program on the market today, it is not suited for page layout and does not handle text well at all. Text in Photoshop has to be rasterized (turned into art) and will result in text that appears "fuzzy." It would be irresponsible for us to offer templates that give our customers poor quality text. We can accept artwork in Photoshop, but please understand that your finished product will not be of the highest quality possible. If you must use Photoshop, our suggestion is to "force" our PDF or EPS templates open in Photoshop by using the File>Open command in the menu bar and using a resolution of at least 300 pixels/inch.
Q: What is a white flood coat?
The white flood coat is a layer of white ink applied on a silver CD/DVD face before color printing that acts as a base-coat or primer
Q: What does "Stand-Alone" mean on the Accutower duplicator towers?
No computer is required to make copies of DVDs or CDs. Plug it in, power it on, and you are ready to start making copies. All Accutowers can have a USB connection added, allowing you to use the bottom burner as an external device. This will help you if you don't have a burner in your computer but it is totally optional. All Accutowers are designed to be stand-alone, so you can duplicate without tying up any computer resources.
Q: Can DVD Duplicators also duplicate CDs?
Yes, all DVD Duplicators can all copy CDs as well.
Q: Is the speed of the CDR media important when copying with Accutower duplicators?
When choosing media it is important to note the speed of the drive and media you will be using. It is important to understand that you can only burn at the speed of the lowest rated component. You can burn on 52x media with any drive, but you are limited by the speed of that drive. Similarly, you cannot burn any faster than the rated speed of your media, even if your drive is capable of higher speeds. For example if you have an 32x drive and 52x media, you can only burn at 32x, or the same 32x Drive with 16x media will only burn at 16x. You need both a top speed drive and top speed media to take advantage of the blazing fast speeds available today. The same is true for DVD burning as well.
Q: What blank media can be used in CD and DVD Duplicators?
All of the CD and DVD media we sell can be used in our towers, drives, and autoloading duplicators as well. The Duplicators do not require special media for copy jobs. When making copies at any speed, media appropriately certified for that speed or higher should be used. USDM Professional or Supreme media or equivalent is recommended for best results.
Q: How do you make DVD copies?
There are two different methods of copying discs using duplicators. Disc to Disc and Hard Drive to disc. Disc to disc duplication involves reading your master disc and copying simultaneously. Hard Drive to disc duplication involves loading your master onto the Hard Drive and then copying to the blank discs. When duplicating DVD's using a duplicator tower it is strongly recommended that you use the HARD DRIVE to disc method. The hard drive can store many different projects and recall them at a later time, providing easy management for multiple masters. Using the hard drive also reduces bad burns.
Q: Can I connect the Accutower to my PC or Mac?
Accutower duplicators are designed to be stand-alone, however we do offer USB and combo USB/Firewire connection options for the bottom burner. It is important to understand these connections are only for using the bottom burner as an external burner, not to control the tower. If you have an 11 drive Accutower that you connect to your computer (Mac or PC) the bottom drive in the duplicator will work as a SINGLE external USB/Firewire burner and the tower can continue to function as a duplicator with 10 drives. Simply disconnect, reboot the tower and you will be back to 11 drives.
Q: Can I copy DVD movies with the Accutower DVD Duplicators?
No, most commercial DVD movies are copy protected and cannot be copied with the DVD Accutower. DVD movies can contain CSS encryption or Macrovision, which prevents the Accutower from duplicating any protected discs. However, you can copy your own DVDR Backups or Video creations.
Q: Can I copy DVDs to CD or vise-versa in a DVD or CD Accutower?
No, DVDs will only copy to DVD Media, and CDs will only copy CD media.
Q: Why is the DVD write speed only up to 16x?
The industry is always pushing the capabilities of technology, and this may be most evident by the progress of burning speeds. The "x" speed associated with CDs and DVDs is based on the original purpose for each format. 1x on a CD is 150KB per second, the data rate for stereo music. 1x on a DVD is 1350KB per second, the data rate for digital video. So 16x on a DVD would be the equivalent to 144x on a CD. Reliability and cost have been the two biggest factors in the current standard of 16x. At the time this article was written 18x DVD burning is available with special drives and media, but the looming debut of new technologies will probably limit burn speeds to 16x DVD and 52x CD.
Q: The DVD Accutower Duplicator is based on DVD±R/RW recording technology, can I copy discs created on DVD±RW drives?
Yes. However, it is NOT recommended to use Re-Writable discs as masters because they are harder to read than a write once disc. As with all optical disc duplicating, there are discs that will not copy for a variety of reasons, for example copy protection, quality of the source disc, etc.
Q: Can I make just one copy, or do I have to fully load all of the recorders in my Accutower?
Yes, you can make as many or few copies as you need. Just load as many blank discs as you need. Accutower duplicators will copy to the number of blank discs it detects and ignore the recorders that do not contain discs. When the tower is loaded fully it will start automatically.
Q: The Accutower comes equipped with a Hard Drive, does the Hard Drive allow the tower to perform other functions?
Yes, the primary function of the hard drive is to store projects (CD and DVD) that can be recalled later. The hard drive can also be used to make custom audio CD compilations with the "Track Edit" feature. This function can combine tracks from different audio CDs into a single mixed audio CD.
Q: What copy speeds does the DVD Accutower copy?
You can burn at any supported speed. DVD Accutowers can burn up to 16x and CD Accutowers at up to 52x. You can choose a lower speed with the controller, provided the media supports it. You can see the supported speeds for any discs loaded by going to the "Disc Info" option in the controller's "Utility" menu.
Q: The speed of my new DVD Accutower is 16x, how fast will it copy a DVD?
The time necessary will depend on the amount of data to be copied and the speed selected. Typically a DVD Accutower can burn a full 4.4GB DVD in around 6 minutes. A full dual layer disc would take more time because it contains much more data and burns at a lower speed. The times will be the same for one copy made on a one to one tower, or 11 copies made on an 11 drive tower, which is why a larger tower is more productive.
Q: If the duplicator is having trouble reading a DVD, what can be done?
Check the disc for scratches or defects. You can load the master with one of the burner drives, in fact a burner tends to be a better reader than any ROM drive. IF the problem persists, you will need to make a new master. Be sure to ALWAYS use high quality media, especially for masters, most problems in the duplication process can be attributed to poor quality media.
Q: Who would need an Accutower Duplication Tower?
The Accutower line consists of cost effective, easy to use CD and DVD duplicators aimed at ALL users, with low or high volume requirements. They are designed for anyone who needs to duplicate music, data, video, or documents and have the need for making quality copies quickly. Accutowers contains the latest DVD and CD Recorders and are designed for speed, control, and convenience. The uses of the Duplicators truly are unlimited.