Ripping and burning are two functions that go hand in hand when creating copies of CDs, DVDs or Blu-rays for personal use. To rip means to extract and copy select tracks or entire disc contents from a disc and store them to a hard drive or computer media library. To burn means to physically write (also known as record) the ripped data to a disc copy.
Computer applications that can be downloaded or installed on your operating system for the purpose of recording copies of CDs, DVDs or Blu-rays are known as ripping and burning software. A majority of this software is tailored to the ripping and burning processes and comes packaged together. It gives you the ability to save data to record to a disc from a variety of files including MP3, WMA and WAV.
Technological advances in burn and rip software have helped to ward off errors unique to the ripping process. Streaming real-time data was of questionable reliability especially for CDs until the specialized software of today started to provide more accurate rips. Consequently, ripping discs to a hard drive or media library for personal use is a solution that can help safeguard your data and entertainment from theft, damage or accidental loss.
In using this software, remember to take copyright laws into serious consideration; these applications should never be used to illegally decrypt copy protection safeguards on discs for duplication. However, the ambiguous fair use doctrine of federal copyright law verifies that burning a single copy of a commercially purchased disc for a non-commercial backup purpose is completely legal when circumventing disc encryption is not a factor. In the instance that you want to copy your own creative audio and video data-your home movies, personal film or music, et cetera-rip or burn as many copies as you'd like.
With copyright warnings in mind, there are a few noteworthy characteristics to take into account when selecting your rip and burn software. First, select software that corresponds to your media format, as you don't want just CD software if you're looking to create DVD copies. Check out the features offered by the software; how does it handle gaps between tracks, can you record multiple sessions? What file formats can it support and can it burn your archive (ISO) files? Does it provide bonus features like disc labeling capabilities?
Additionally, you want to consider how easily the software's instructions can be followed or how prone it is to errors during the copy process. Examine the help section of the software to see if its layout is easy to navigate when you're having trouble. You also want to weigh what you are getting for your money when it comes to the price of the software.
We briefly examine a few of the major brands of CD/DVD rip and burn software on the market and rate them on how they measure up in copying discs. The ratings scale ranges from 1 (bad) to 5 (excellent).
Nero 10 Review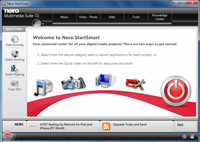 Rip and Burn: Nero is a software brand considered among many to be a leader in disc burning and copying technology. There are several areas that Nero's burning software excels, but also notable issues that can weigh a user down. It features high quality playback and guarantees data readability despite environmental elements like aging or scratching. The rip and burn software Nero provides also alerts you when the integrity of your disc is at risk and in need of a backup. Additionally, it protects your creative work through disc encryption and digital signatures.
However, Nero software requires several installation components to function and its file size requires a lot of space at over 290 megabytes. Some users complain that the program is weighed down by bloatware, and simple tasks or primary commands take longer than they should. Additionally there is no support for Mac users. The layout may be intuitive for seasoned users, but harder to follow for those new to burning software. When considering all past and current versions, Nero ripping and burning software ranks as a 3.5 for its features, ease of use and installation. Its current software can be purchased for as low $50.
Roxio Creator Review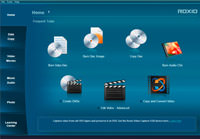 Rip and Burn: Roxio is another well-known brand for burn and rip software. It offers a simple, yet wide range of functions including but not limited to: data and disc image burning, creating backups, as well as copying and converting unencrypted streaming video or disc formats. Data burning is the software's strong suit. Roxio burning is renowned for a user-friendly design that provides intuitive navigation through drag-and-drop commands and easy-to-follow menus.
While Roxio offers more than one user guide and online access to an automated chat for help, some users say its tech support is less than helpful. They say that tech support isn't customized to their problems; it gave standard answers, slow response and was unable to solve the actual problem at hand. Others complained about Roxio's installation process, that is was extremely slow or would render incomplete. These installation issues may be chalked up to incompatibility with your operating system's other applications or anti-virus software. The price of average Roxio burning software is more than Nero at approximately $70. Roxio receives a rating of 3 when factoring in features, price and ease of use. Once and if the installation obstacles can be overcome, a user can enjoy an easy-to-navigate disc burning product.
CyberLink Power2Go Review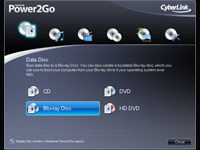 Rip and Burn: Power2Go is disc rip and burn software that shines for users because of its streamlined capabilities-it is unlike Nero, Roxio and other counterparts in that it's not adorned with excessive additions like labeling or editing tools that can clutter or bog down the primary function of simply burning and ripping discs. These suite add-ons are notorious for slowing computers to a crawl.
Power2Go however, directly caters to just copying and burning audio, video and other data. Multiple data settings are in place to cater to your burning preferences. It can safeguard your data with 128-bit encryption. The fast software supports a wide range of media formats including CDs, DVDs, HD DVDs and Blu-ray as well as mixed media formats. Power2Go's navigation system explains itself; almost any beginner can understand its easy-to-follow setup, large icons and drag-and-drop function. Installation is easy, except for one hitch-Power2Go may prompt you to install additional software. However, this download process as a whole is minimal in headaches.
Rip-only software is different for both CDs and DVDs. Ripping CDs can be accomplished through the simple use of Windows Media Player, iTunes or another application inherent to your computer system. These intuitive applications take you step by step through the ripping process. With DVDs however, rip-only software can come in two different formats:
To rip audio and video data for viewing on a personal computer, and
To rip audio and video that will be converted and compressed for burning a physical disc copy.
You will not see very many well-known software names behind these types of applications. Legal battles over copyright protection have discouraged them from distribution. The majority of rip-only DVD software that is available online flirts with a gray area when it comes to copyright legality. They can retain or omit menus and bonus features in order to strictly rip a movie or other audio/video data. This rip-only DVD software also has the ability to work around built-in copy encryptions of most disc formats. It's advisable to use these at your own discretion and your own risk.