You may have heard of two processes to burn discs, duplication and replication. What's the difference? They both are used for burning content onto discs like CDs and DVDs but they each differ on what types of orders they're utilized for.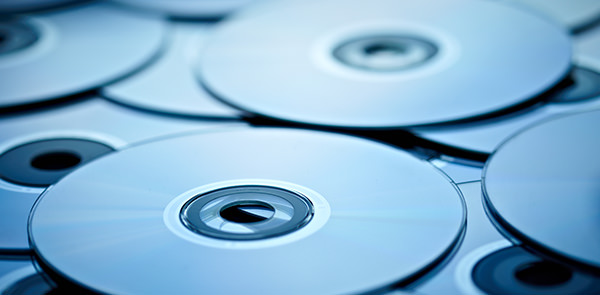 Duplication is best for quick production times, low quantity batches, CD-R media, and offers premium Photo printing.
CD-R (Compact Disc Recordable)
CD-R is a media that is burned using a laser. They are duplicated. A special dye is layered and then burned via a laser, creating pits and lands that convert into readable data. You cannot rewrite CD-R, but you can completely fill up available capacity of a disc. A CD-RW has a phase changing metal recording surface that darkens when exposed to heat but can be reversed, allowing rewrites.
Replication is best for large quantity batches, CD-ROM media, and retail ready packaging. It also has a lower cost per disc.
CD-ROM (Compact Disc Read Only)
CD-ROMs are pressed, not burned. They are replicated. This means that a nickel plated stamper (made from a Master disc) presses data into the surface of the disc, forming pits and lands on the polycarbonate base. The pits and lands are what form the data, and can be read more accurately than a CD-R's laser burned data. This is why some CD-R discs won't work in some CD players/trays. CD-ROMs are utilized by companies seeking to distribute their software or offer marketing information to consumers.
Oh, don't forget Print Only!
Print only refers to our disc label and packaging printing services only. Your discs will not be duplicated or replicated; you will receive blank discs with label art. Our in-house professionals specialize in creating pre-printed discs and custom printed packaging inserts. Get your discs and packaging printed with your choice of digital, Thermal, PhotoPro, Inkjet, or Silkscreen printing.
Print Only features:
Excellent printing options: Digital, Thermal, PhotoPro, Inkjet, or Silkscreen
Burn as you go! With our pre-printed discs, you can change your content quickly without having to reprint your disc artwork/label
Pre-printed packaging allows you to easily customize your disc cases. Both digital and offset processes are available.
Still confused or unsure?
That's okay, we can help you. Just dial our toll free number, 877-992-3766 and our excellent sales associates will help you!
Shop and Compare CD and DVD Duplication and Replication Services

View all CD Duplication Options