How to order Duplication or Replication
Disc Duplication and Replication from A to Z
Understanding the difference between duplication versus replication of your CDs, DVDs or Blu-rays is crucial to the complete satisfaction of your project. The literal definitions of duplication and replication are so similar that it's easy to become confused. The goal of our Duplication / Replication resource page is not only to demystify the disc manufacturing process but also take you step by step through ordering. CDROM2GO's goal is to get you exactly what you want the first time around.
Creating a Master CD and Master DVD
You can create your own master discs or leave it up to one of our CDROM2GO specialists. Master CDs and DVDs are what we use to duplicate or replicate your content. No matter what kind of disc you have, ALWAYS finalize your disc and send at least three copies to guarantee that there are no errors in your final product. While every media project is different, we've supplied guidelines below that are advisable to follow:
Submitting a Master CD
Never use a rewritable CD. Always use CD-R's that can only be burned one time.
Make sure that your audio tracks are formatted correctly. AIFF or WAVE, 16bit, 44.1khz.
Recommended software to burn on: iTunes (free), Nero, or Toast.
ALWAYS listen to your project in its entirety before submittal. What you send is what you will get back from us.
Once the final master is burned, double check the size of your tracks. If you have a track (song) that is sized under 1mg (e.g. 45k), you most likely have a problem. One minute of audio should be equal to 10mg.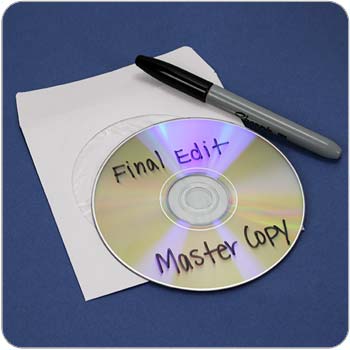 Submitting a Master DVD
Never use a rewritable DVD. Always use DVD-R's that can only be burned one time.
Test your DVD on multiple TV's and computers before you submit your final master.
Burning a file formatted for YouTube or for your website probably won't give you the best results when burning your DVD.
The most efficient way to create your master is to export your master as an MPEG-2, then burn it to a DVD for optimal quality.
Recommended software to burn your master PC (Adobe Encore or Nero) Mac (DVD Studio Pro or Toast).
CD/DVD/Blu-ray Artwork Tips
You want your designs and logo to look as vibrant as they can when it comes to CD duplication and replication. In order to achieve the highest quality discs, consider these tips:
Submit high resolution artwork that is at least 300 dpi to avoid blurry images or pixilation.
CD and DVD duplication artwork should be submitted as an .EPS, .TIF or .PDF designed from programs including Illustrator, Photoshop, InDesign and QuarkXPress.
Remember to include all font and image folders that may be provided by the software.
Do not flatten the image; leave all of the layers separate.
Artwork should feature a 1/8" bleed past your border edges to compensate for printer shifting.
A 1/8" safety zone from the edge to the inside will ensure nothing is cut off.
Use a minimum font size of 10 point for no white flood coating (disc base coat) or 12 point for white flood coating.
For color matching, supply a sample or Pantone color.
Ask your account representative how we can collaborate with you on custom artwork.
Understanding the CD, DVD, Blu-ray Duplication Approval Process
Our duplication and CD/DVD replication process goes through a series of approvals with you to prevent errors and ensure customer satisfaction. Here's how it works:
Once you examine the proof, you'll need to respond to our art department regarding any changes needed.
After you have submitted an email approval, CDROM2GO counts that as day zero (the start) of production.
For DVD or CD duplication orders, we will respond with a shipping date and shipping method via email notification
For DVD or CD replication, production will take longer, so we will not have an exact shipping date available, except that you will receive it within the turn times that we guarantee.
One potential delay in production—if you require a "one-off" print sample (an actual art or content sample printed and shipped to you). In this case, day zero of production starts once you receive and approve it via email.
CD/DVD Duplication and Replication Order: How Long Will It Take?
All CD, DVD and Blu-ray duplication orders take 3 to 5 days from artwork proof approval.
CD, DVD and Blu-ray replication for bulk discs (either shrink wrapped or in blank paper sleeves) will take 7 to 10 days.
Disc replication orders that include custom printed packaging will take 10 to 14 days.
Need More Help?
You'll find more answers that you may be looking for as you browse our articles on duplication and replication. The first key difference you'll notice between the processes is the quantities of CDs, DVDs or Blu-rays used. Duplication also has a shorter turnaround time but replication can sometimes be more cost-effective. One process manufactures discs by burning information into them while the other uses heavy machinery to stamp data into each disc. Pros and cons will arise for both duplication and replication which means there is no blanket response for every job. As you determine which manufacturing route your media project will take, you'll find what you can expect from your CD, DVD or Blu-ray service order right here. If you're lost at any point, CDROM2GO is available on the phone or online to guide you through.