You might have noticed that you have two main choices to choose from when purchasing a CD, DVD, or Blu-ray printer: Inkjet and Thermal. What's the difference and which is best for you?
Inkjet CD/DVD Disc Printers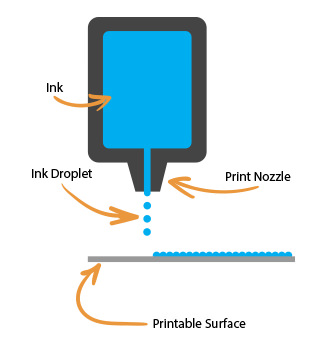 Inkjet printing has a few big advantages over thermal printing. First, inkjet disc printers are capable of much higher resolution prints (measured in dots-per-inch, or DPI) than thermal. The DPI of a printer depends on the manufacturer and model, but some brands like Epson can produce 2400DPI and higher. Inkjet cartridges are usually cheaper than thermal ribbons but have a lower throughput than thermal (about 200-400 discs per cartridge, on average). Inkjet discs need time to dry before they are burned or inserted into a duplicator as the ink could smear. Inkjet discs may cost a few pennies more because of their special matte silver on white print surfaces. Some media discs offer protection from smearing and smudging with a high gloss finish that looks like more expensive thermal print.
Thermal CD/DVD Disc Printers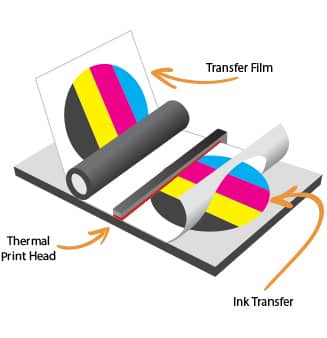 Thermal CD and DVD printers use a heat transfer ribbon that prints directly on the surface of compatible discs. Thermal discs cost less than inkjet, but the ribbons required to transfer cost more than ink cartridges for inkjet printers. The throughput of thermal ribbons is higher than inkjet (500-800 discs per ribbon) but this printing technique is meant for discs that don't need high quality graphics or fancy color patterns. Thermal printing is ideal for simple logos or line art. Thermal printed discs look best if used for simple one-color printing without any large blocks or patches of printed areas. Most high-volume duplication houses use thermal printing for the fastest throughput and most durable print surface.
Thermal Retransfer CD and DVD Printers
Another type of thermal printer is the thermal retransfer disc printer. These printers are different than standard thermal ones since they use a thermal-retransfer system that produces full color photo quality prints. This enables you to create off-set quality DVD or CD prints with unsurpassed durability. These printers can create images with the color, intensity, graphics, and durability of offset printed discs. They are durable, UV stable, and permanent. This type of printing allows for photographic like images and monochrome text, graphics, and grayscale images.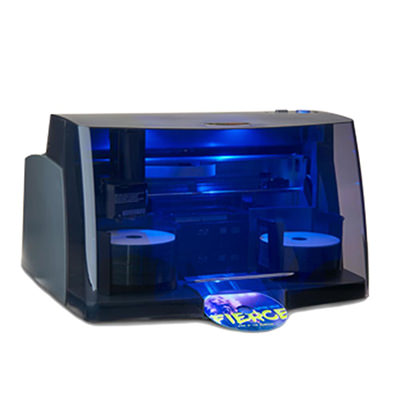 Primera Bravo Inkjet Printer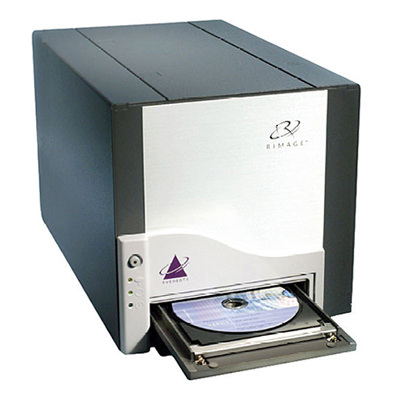 Rimage Everest Thermal Printer