Labeling & Applicator Instructions
Professional Photocoat Labeling Instructions*For use with 22mm center-hole labels
USDM 4 in 1 Labels provide the perfect solution for the professional design and positioning of labels on CDs and DVDs allowing for great looking discs.
USDM Pro Labeling Software is an intuitive program, which can be used to create your labels easily without having knowledge in complicated graphic art programs. Templates can also be downloaded from our website for use in various other design programs.
USDM 4 in 1 CD Labels will print to any laser or inkjet printer. Gloss labels are only recommended for inkjet printers, Laser labels are recommended for laser printers and Matte labels will work on either inkjet or laser printers. All labels are white and can be loaded into the printer in either direction.
USDM 4 in 1 CD/DVD labels can be applied by using the USDM 4 in 1 applicator and will work with Full Sized CDs, Mini CDs, Business Cards and Rectangular Cards. Simply follow the applicator instructions below for quick and easy label application.
*Put labeler together for your type of disc
*Mini's and Full Size discs do not use the straight edge pieces
*Label goes on deck with sticky side up
*Disc goes on top of post with side to be labeled facing deck. Disc held in place with disc holder
*Label and deck are slid up to the disc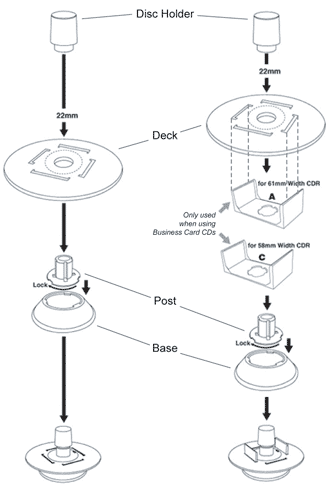 *Depending on size of disc label, (61 or 63mm) choose appropriate guide
*Guide holds label in place, while label and deck slide up to disc