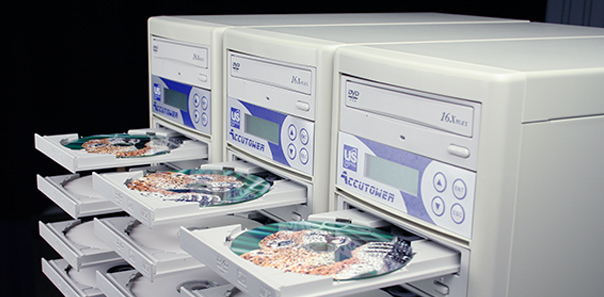 Disc duplication services take the guesswork out of making copies for your media project by letting professionals handle the workload. Despite it sounding like a huge expense, the majority of these companies give quick turnarounds for their high volume disc services are also usually able to work within your budget. The fall of prices for optical media and related equipment means, now more than ever, that disc duplication is even more accessible.
Even though you are entrusting your media project to a duplication house, that doesn't mean you're also giving up creative and authoritative rights to your order. Duplication services may handle all the details, but they give you choice of disc, packaging, and artwork so that your artistic or business vision is never compromised.
Do note that duplication houses take some time to produce and ship out your order. You could be looking at a turn time of 14 days; however it is more typical with a 3-5 day window now with all the advances in optical media equipment. Each duplication house is different and offer different experiences. Some specialize in large or small batches or orders; some offer barebones services at bottom of the barrel prices; some only offer premium materials and packaging. Make sure to shop around and find the one that suits your needs.
When it comes to budget, don't forget to consider the additional costs of packaging, inserts, covers, artwork, and shipping fees. Note that costs like packaging and inserts are going to be listed per copy. Shop around for prices; some companies even will price match! If you're keeping an eye on your printing budget, thermal printing is the least expensive although it can be restrictive (simple black text, logos, and shapes). For higher quantities (at least 500) with higher quality as well, silkscreen printing will create full color artwork but it lacks the high resolution of thermal re-transfer, digital, or offset. If price is not an issue, aim for thermal re-transfer or offset printing for the best print results. If you're starting to worry about pricing though, don't. Often times, duplication services offer premium printing services at no charge to get you to come back!

Another tip: if a duplication house has lots of packaging and printing options, that implies that the company has lots of options and is willing and able to cater to your budget and project goals!
Shop All CD and DVD Duplication Service Offerings