Disc duplication is a quick turn of low to medium volume of discs for any promotional or marketing need. At CDROM2GO, we can duplicate your DVD or CD project of 100 to 10,000 discs in just 1-5 business days.
The process is simple.
From a Master CD, we can simultaneously burn a large batch of exact copies on writable discs. We can produce dozens or thousands of copies on Grade A-media using our premium, high end duplication equipment. We only use CD-R and DVD-R in our duplication process because several studies have shown that they have the highest compatibility across all optical media players, computers, etc. The standalone duplicators we use are the same models that we offer for purchase online and feature the latest technologies.
For quantities of 100 to 10,000 discs, we can quickly duplicate standard full-size discs (CDs, DVDs, mini CDs, and business card CDs). For larger jobs, please refer to our replication services.
After data is copied onto your discs, they are ready to be printed. Before printing, our graphics department must make sure that the image will print at its highest quality possible. Once the images have been successfully checked, proofed, and approved, they are printed on our state of the art PhotoPro machine which uses an all digital process to print directly on the disc. PhotoPro boasts an incredible resolution of 600 dots per inch (DPI) for amazing quality prints and rich, vibrant colors. They are also glossy, waterproof, smudge-proof, and UV stable.
Once the discs have been duplicated and printed, they are ready for assembly. Our duplication staff can insert your discs into the chosen cases with our full color digital printed inserts or case entrapments. Then they are boxed up and shipped to your destination in just 3-5 business days.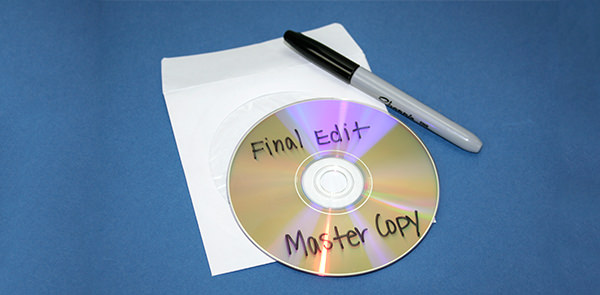 Creating a Master CD/DVD
You can either create a Master disc yourself or have one of our specialists do it for you. Master CDs or DVDs are what are used to duplicate or replicate your content. Regardless of the disc type, ALWAYS finalize your disc and send at least 3 copies to guarantee there are no errors in your final product.
Submitting
Follow these guidelines for submitting the content for your CD or DVD Project.
Submitting a Master CD
Never use a rewritable CD. Always use CD-R, which can only be burned once.
Make sure your audio tracks are formatted correctly, AIFF or WAVE, 16bit, 44.1khz.
ALWAYS listen to your project in its entirety before submittal. What you send to us is what we will send you back!
Once the final Master is burned, double check the size of your tracks. If a track is sized under 1mg (e.g. 45k), you most likely have an error or issue. One minute of audio should equal 10mg.
Submitting a Master DVD
Never use a rewritable DVD. Always use DVD-R, which can only be burned once.
Test your DVD on multiple TVs and computers before you submit your Master.
Make sure the file is formatted correctly. Burning a file formatted for YouTube or for your website probably won't give you the best results.
The most efficient way to create your Master is to export it as an MPEG-2, then burn it to a DVD for optimal quality.
Artwork Tips
Submit high resolution artwork that is at least 300 DPI to avoid blurry images or pixilation.
CD and DVD artwork should be submitted as an .EPS, .TIF, or .PDF designed with programs like Illustrator, Photoshop, InDesign, and QuarkXpress.
Remember to include all font and image folders that may be provided with software.
Do not flatten image; leave all layers separate.
Artwork should feature a 1/8" bleed past your border edges to compensate for printer shifting.
A 1/8" safety zone from the edge to the inside will ensure nothing is cut off.
Use a minimum font size of 10 point font for no white flood coating (disc base coat) or 12 point font for white flood coating.
For color matching, supply a sample or Pantone color.
Ask your account representative how we can collaborate with you on custom artwork!
The Approval Process
Our duplication and replication process for CDs and DVDs is a series of approvals to prevent errors and ensure customer satisfaction. Here's how it works:
Once you examine the proof, you'll need to contact our art department regarding any changes needed.
Once you have submitted an email approval, we count that as day zero (the start) of production.
For duplication orders, we will respond with a shipping date and method via email notification.
For replication, production will take longer and so we will not have an exact shipping date available except that you will receive it within the turn time that we have guaranteed.
If you require a "one-off" print sample (an actual art or content sample printed and shipped to you), then day zero (the start of production) starts once you receive and approve via email.
Turn Times*
Replicatoin with Custom
Printed Packaging
10 to 14 Days
*All turn times start after artwork approval
Need Help?
Please call us toll free at 1-(877)-992-3766 to chat with our friendly account representatives waiting to assist you.