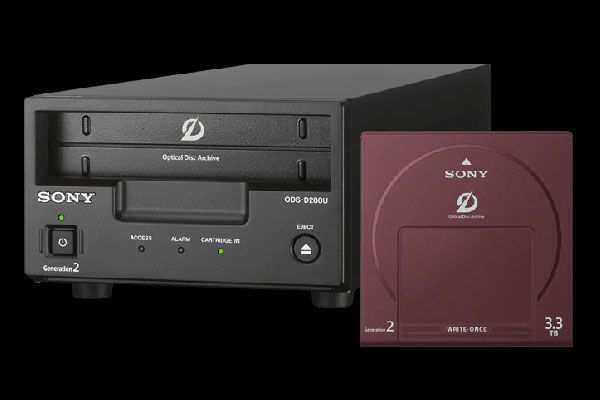 You might never have thought of it before, but a production company requires data storage—lots and lots of data storage. A prolific production company located in North Hollywood, California named Endemol Shine North America (responsible for such well loved shows as The Biggest Loser, MasterChef, Deal or No Deal, and Extreme Makeover: Home Edition) used to utilize a combination of LTO-5 (Linear Tape Open; a magnetic tape data storage technology) and Sony first generation standalone optical disc drives for their archival and data storage purposes. But instead they are now transitioning into an entirely optical media operation.
Endemol Shine North America is making the switch and saying goodbye to their old LTO-5 and adding four more standalone optical drive units, although these will be the new Generation Two ODS-D280U ODA which will operate alongside their original four first generation ODS-D77Us. What prompted the switch?
As you can imagine, a production company with a huge list of high scoring shows requires a great deal of storage capability for takes, edits, shots, and any other generated content. Therefore, all factors are directly related to the large volume of data generated.
Cost Savings
The problem with LTO tech is that it requires a climate-controlled storage space. Endemol Shine North America had to house their tapes in an off-site climate-controlled warehouse, which was extremely expensive. Note that some shows (like MasterChef) result in 70-80 cubic feet worth of storage boxes, so space is consumed very quickly. Add this on top of the cost of carefully controlled climate needs and you have a very expensive reservoir for show clips. Unfortunately, LTO and other magnetic media are sensitive to temperature and humidity and if conditions are not kept optimal, your likelihood of retrieving your data narrows.
LTO tech also does not last nearly as long as ODA (optical disc archiving) technology. In fact, ODA lasts roughly two to three times longer and does not required climate-controlled storage facilities. The latest generation model Endemol Shine North America has purchased, though the original generation was quite good to begin with, also has a higher speed and density and lower cost per GB than the original.
So, in the grand scheme of things this production company is saving the environment (no more climate controlled wasted space), saving money on real estate space, and potentially fitting more into smaller space. According to the Vice President of Post Production, Alex Palatnick, it will be about 46% savings with the switch and even more savings when you take into consideration the real estate savings.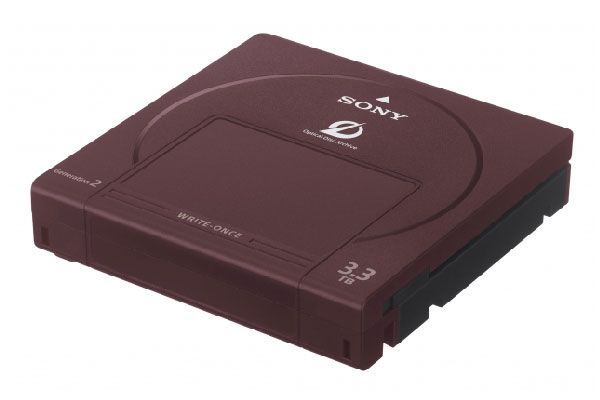 Enhancing Workflow
Workflow is one of those key words you hear a lot now in business circles, and with good reason: it's the reason why Ford (the pioneering car manufacturer, not the president) with his production line and standardized parts became such a business powerhouse.
Therefore, it's not a surprise that the smoothing of workflow should be a big component of Endemol Shine North America's decision to switch over to a complete Sony ODA system, which has speeds as fast as LTO and random access and data longevity to boot. This production company has found that working on set saves time (and therefore money). From now on, archiving and distribution will be handled on set and in-facility.
Palatnick also noted that data loss from a disc was practically a non-issue. ODA has an impressive bit error correction (the most robust in the industry, actually) and unlike LTO is not a victim to magnetic rot. LTO storage is like a barrel of apples; if one goes bad, they all do. But if a disc is damaged, it doesn't ruin the entire cartridge and loss is minimalized to just that specific data.
Maintenance
You may not know this, but magnetic archival tech is a little heavy on the maintenance factor. There's the climate control factor mentioned above but also cleaning. Each drive, depending on volume, needs to be cleaned weekly. This seems like a small thing but when you have acres of stored data and oodles of drives to maintain while you're already on a busy production schedule, it turns out to be no small task. Content librarians can relax a little bit with disc drives because they operate on lasers which require no cleaning. Discs store more data, more reliably, with less hassle than magnetic tape tech, and incur less cost in storing and maintaining them.
Cloud vs Hard Data Storage
Of course, many wonder why most haven't migrated to a completely cloud based storage archival system. Palatnick doesn't see the cloud as a long term or viable alternative:
"I will never give up hard assets ever…In the event we run into a failure, we have to retain the ability to recover from it quickly. The only way I can see a cloud-based storage system being viable, is to have something transitional, which would be ODA. And I think that ODA absolutely has long-term presence, even with cloud-based archives running simultaneously. So, you can still run ODA, and have cloud-based archives at the same time." The continued use of Sony's ODA tech in this instance is a clear case of sensible business practice. Having a hard copy of your data in case of an internet outage (which is inevitable) or to keep it away from hackers and industry thieves.
Endemol Shine North America's fusion of Cloud and hard copy archival methods is not unique; it's a recommended step for keeping data long term and still easily available for use. The limitations of both are nicely rounded off and complimentary of each other, like in this instance where hard copies are kept to ensure long term availability and Cloud copies are made easily available (pending an internet connection) for immediate use.
The ODS-D280U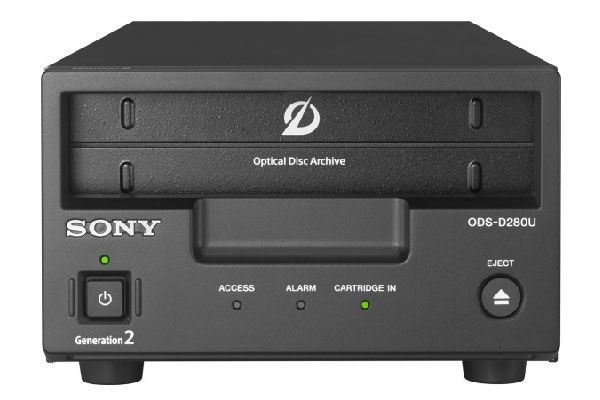 The ODS-D280U Optical Disc Drive is a stand-alone disc drive unit part of Sony's optical disc family of storage products meant for archival of audio and visual content. It boasts high transfer speeds (1Gbps) write and 2Gbps read using the ODC-3300R generation 2 cartridge (3.3TB). Plus, it is fully backwards compatible—meaning that Endemol Shine North America won't have any issues interplaying their first generation set of drives and their latest. The laser is designed for "dual channel" capability and is file format independent so assets can be stored in data file formats. The disc media is ideal for a variety of storage applications: warm, cold, and hybrid Cloud which is great because other mediums do not allow this or don't meet write once immutable requirements.