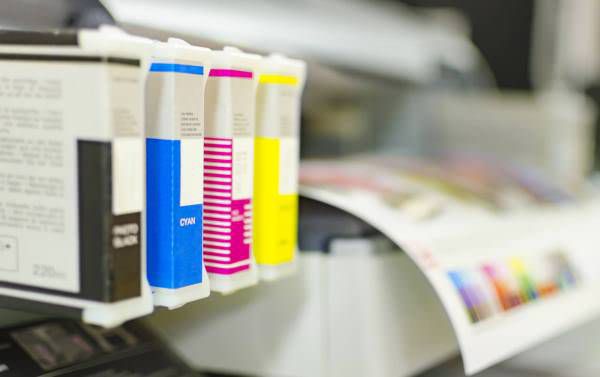 When shopping for blank CD and DVD media on our website, it's common to see products with descriptions such as "white inkjet printable" and "silver thermal hub printable." If you have ever wondered what these mean, you're not alone. We get asked all the time about which discs are compatible with which printers. That's why I am here to break it down for you.
The most plain, basic type of blank disc is a shiny silver disc. These are usually the least expensive type of blank discs on the market because they are so simple to produce. On the bottom, the data layer is either that of a CD or DVD. On the top, the disc has a shiny silver coating that gives it a mirror-like finish.
The next type of disc is an inkjet printable disc. It's a lot like the shiny silver disc with one important difference: during the manufacturing process, a special inkjet printable coating has been applied to the disc's surface. This gives the disc a dull or matte look - much like blank copy paper you would load into your printer or copy machine.
The texture of an inkjet printable CD or DVD disc also feels a lot like copy paper. It will have a slightly coarse feel to it. The texture of the surface allows the disc to absorb the microscopic droplets of ink to form a picture.
In comparison, a thermal printable disc looks noticeably different from an inkjet disc. Thermal discs have a sheen, glossy look to them that really catches the light. The surface of a thermal printable CD has a smooth texture like photo paper.
Although these two disc surfaces are both printable, they are not interchangeable. Think of it like the difference between gasoline and diesel. Both are types of liquid fuel which are burned, but they are not substitutes for each other.
In the same way, inkjet-coated discs are designed strictly for use with inkjet disc printers such as the Primera Bravo, Epson Discproducer, and Microboards G3. Meanwhile, thermal discs work only in thermal printers such as the Rimage Everest and TEAC P-55.
What will happen if you accidentally put the wrong type of disc in your printer? You'll know right away that something is wrong because the droplets of ink will simply bead up on the dense surface of a thermal printable disc. The ink will smudge and smear all over and will never fully dry.
Placing an inkjet disc into a thermal printer is also not a good idea. The artwork will not be able to adhere to the disc's surface and will peel off, possibly resulting in damage to the printer or print head.
It is very important to pick the right type of printable media for use with your disc printer. If you're not sure what you need, please visit www.CDROM2GO.com or call us toll-free at (877) 992-3766 to speak to one of our helpful representatives. They can help you find the right blank disc for your printer - and your budget!